On 23rd March, the University of Warsaw rector issued an order which states that students, doctoral candidates, postgraduate students of the School of Education of the Polish-American Freedom Foundation and the University of Warsaw, and participants of the Polish National Agency for Academic Exchange, who live in UW facilities, will pay a partial accommodation fee in April.
Regarding the suspension of traditional classes at the University of Warsaw, rector of the University of Warsaw decided to reduce an accommodation fee in UW facilities by 50%. It applies to all residence halls for UW students, university guest houses "Hera" and "Sokrates", and "Dom Pracownika Naukowego". It also refers to the upcoming month – April.
View the Order of the Rector of the University of Warsaw >> (version in Polish)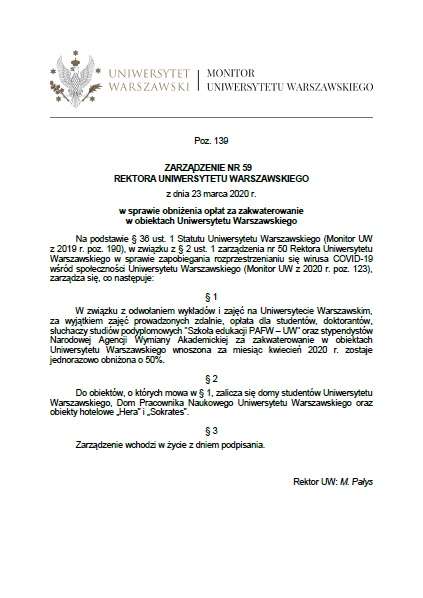 University Residence Halls
Short-term students are offered accommodation at the university dormitories:
and two university guest houses: "Hera" and "Sokrates".