University of Warsaw Facts and figures
UW Annual Report 2018 – Executive summary with basic facts and figures on the university (pdf)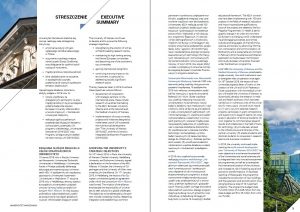 UW Annual Report 2018 – Annexes (pdf)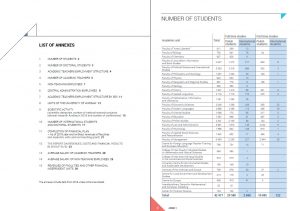 1816
The University of Warsaw was founded in 1816 >>
6

University graduates have won 6 Nobel Prize awards:
Henryk Sienkiewicz, writer, winner of the 1905 Nobel Prize in Literature, awarded "because of his outstanding merits as an epic writer",
Czesław Miłosz, poet, prose writer, winner of the 1980 Nobel Prize in Literature,
Menachem Begin, prime minister of Israel from 1977 to 1983, received the Nobel Peace Prize in 1978,
Joseph Rotblat, physicist and radiobiologist, was awarded the Nobel Peace Prize in 1995,
Leonid Hurwicz, economist,  winner of the Nobel Prize in Economic Sciences in 2007, awarded "for having laid the foundations of mechanism design theory",
Olga Tokarczuk, prose writer, poet and psychologist, winner of the 2018 Nobel Prize in Literature.
57,600
The University community consists of:
7,300 employees,
42,500 students,
2,900 doctoral students,
4,900 international students and doctoral students.
21
The UW encompasses 21 faculties and over 30 research units.
3,250
The University's scholars investigate over 3,250 research topics per year.
1,600
The scholars participate in 1600 projects financed by national or international research programmes, such as EU framework programmes, European Science Foundation, European Cooperation in the Field of Scientific and Technical Research, European Economic Area and Norway Grants, European Molecular Biology Organization.
5,200
Each year the body of publications produced by the University scholars increases by approximately 5,200 new items.
1000 & 100
The UW cooperates with over 1000 foreign entities. It is a member of approximately 100 international associations and networks.
27 & 2,000
The UW offers 27 English-language programmes. Within the Polish-language programmes, approximately 2,000 courses are taught in foreign languages >>