Important links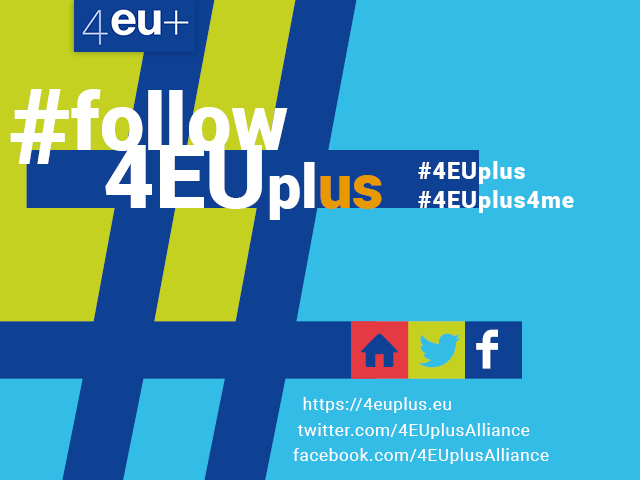 4EU+ website: https://4euplus.eu
4EU+ on Twitter: twitter.com/4EUplusAlliance
4EU+ on Facebook: www.facebook.com/4EUplusAlliance
4EU+ on Instagram: instagram.com/4euplus_alliance/
Office for International Research and Liaison – coordinates the UW contribution to the 4EU+
Press Office – responds to media enquiries
Flagship Coordinators at UW
Dr. Catherine Suski-Grabowski (Interdisciplinary Centre for Mathematical and Computational Modelling) / Dr Grzegorz Kula (Faculty of Economic Sciences) – Flagship 1 "Urban health and demographic change"
Prof. Anna Wojtyś (Faculty of Modern Languages) / Prof. Agata Bareja-Starzyńska (Faculty of Oriental Studies) – Flagship 2 "Europeanness: multilingualism, pluralities, citizenship"
Prof. Błażej Miasojedow (Faculty of Mathematics, Informatics and Mechanics) / Prof. Agnieszka Świerczewska-Gwiazda (Faculty of Mathematics, Informatics and Mechanics) – Flagship 3 "Data – Models – Transformations"
Dr. Julia Pawłowska (Faculty of Biology) / Dr. Mariola Zalewska (University Centre for Environmental Studies and Sustainable Development) – Flagship 4 "Environmental transitions"
Announcements
4EU+ Summer School "Dimension francophone"
University of Milan organises a summer school on the iconography and representation of Europe in the literature and art of the French-speaking world (19th–21th centuries).
The classes (two 90-minute sessions per day + debates) will be held from 13th to 17th June (20 teaching hours, 3 ECTS) at the University of Milan. They are open to MA students, doctoral candidates, as well as their supervisors. There is a limit of five participants from each member university of the 4EU+ Alliance.
To apply for the event, a candidate should send a covering letter in French to marco.modenesi(at)unimi.it. The deadline for applications is 22nd May.
DI-SEGNO NERO
The cycle of seminars "Di-Segno Nero" will take place in Milan in collaboration with Fondazione Feltrinelli and start on 9th May. Four seminars have the aim to understand what and to whom the political proposals of the radical right in Europe are addressed and are open to anyone interested.
The four-seminars programs are available at the link https://fondazionefeltrinelli.it/di-segno-nero-en/.
The seminars will be streamed on the Facebook page of Fondazione Feltrinelli.
4EU+ Conference on Educational and Research Infrastructure Collaboration in European University Alliances
This online conference will bring together alliance representatives and practitioners from 4EU+, UNA-EUROPA, EUGLOH, EPICUR and CHARM-EU to share experiences and lessons learned on collaborations on and management of infrastructure.
The event will take place on 8th June.
4EU+ student mini-grants 2022
Charles University will support up to 10 projects through so-called student mini-grants, seed funding for teams from the 4EU+ universities. This scheme aims to encourage students and young researchers from all around the 4EU+ Alliance to collaborate without the limitation of their fields, faculties, or universities.
The projects can focus on initiating international research collaboration, organizing joint educational activities (workshops, soft skill courses, etc.) and developing socio-cultural collaboration and strengthening the third role of the university (active involvement in the social discourse and search for solutions to global economic, social and environmental issues).
The deadline for submitting applications is 1st June.
4EU+ Against Cancer Summer School
4EU+ students can apply for participation in the 4EU+ Against Cancer Summer School that will take place in Warsaw from 3rd to 9th July 2022.
Oncology with preclinical research (i.e. in silico, in vitro, in vivo) and clinical (early phase, late phases) becomes more and more complex with multiple and complementary fields of investigations. In addition, it becomes more and more cost- and time-consuming. This research program will give an overview of the different axis of research in oncology and different fundings of research.
International researchers, teachers and members from 4EU+ universities will give lectures and meet students.
4EU+ joint course "Data Analytics for Students of Social Studies and Humanities"
This course is a gentle, programming-free combination of lectures and practical demonstrations of real-life data workflows in various SSH research areas. It aims at motivating the SSH students to improve their digital literacy in more advanced data analytics courses. The curriculum has arisen as a joint effort of Charles University, University of Warsaw, and Sorbonne University.
Registration is required for students interested in obtaining ECTS credits, however, anyone interested may take part in the classes.
Classes are held online.
Free Online 4EU+ Course: Data Literacy
"Data Literacy – What is it and Why Does it Matter?" is the title of an open online course.
It will cover issues from three perspectives: data in personal life, data in society, and data in knowledge production. The aim is threefold:
to expand the skills and abilities to identify, understand, and interpret the many roles of digital technologies in daily life;

to enable the participants to discern when data-driven technologies add value to people's lives, and when they exploit human vulnerabilities or deplete the commons;

to cultivate a deeper understanding of how data-driven technologies are shaping knowledge production and how they may be realigned with real human needs and values.
The course is funded by Erasmus+ and developed by the 4EU+ University Alliance including Charles University (Univerzita Karlova), Sorbonne Unviersity (Sorbonne Université), University of Copenhagen (Københavns Universitet), University of Milan (Università degli studi di Milano), and University of Warsaw (Uniwersytet Warszawski).