Important links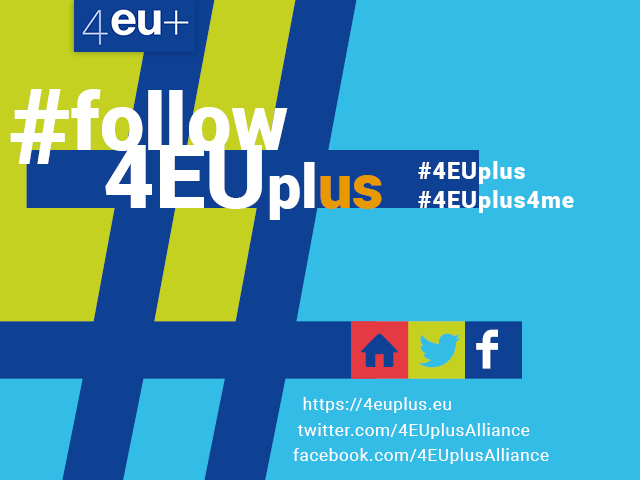 the 4EU+ website: https://4euplus.eu
the 4EU+ Twitter account: twitter.com/4EUplusAlliance
the 4EU+ Facebooku account: www.facebook.com/4EUplusAlliance
Office for International Research and Liaison – coordinates the UW contribution to the 4EU+
Press Office – responds to media enquiries
Flagship Coordinators at UW
Dr. Catherine Suski-Grabowski – Flagship 1 "Health and demographic change in an urban environment"
Prof. Anna Wojtyś – Flagship 2 "Europe in a changing world: Understanding and engaging societies, economies, cultures and languages"
Prof. Agnieszka Świerczewska-Gwiazda – Flagship 3 "Transforming science and society: Advancing information, computation and communication"
Dr. Julia Pawłowska – Flagship 4 "Biodiversity and sustainable development"
News
Join a research team at UW
The University of Warsaw Centre for French Culture and Francophone Studies invites applications to join its research team. Young researchers and doctoral candidates can submit their applications and join the research team for a period of 8 months (October 2020 – May 2021). The application deadline is 19th October.
Candidates' research interests should concern topics related to, e.g. Central Europe, collective memory, Francophonie and French-speaking studies, artificial intelligence and business and ethics.
The selected candidates will be involved in the organisational and scientific work in the projects within the European Pluralities programme.
Knowledge of French is a mandatory condition to apply. More information (in Polish and French) >>

Due to COVID-19 situation the workshop "Le pouvoir en écritures dans l'Europe humaniste: fin XIVe – début XVII siècles", organised within Flagship 2 project "Humanism, from the late Antiquity to the 21st Century/L'Humanisme européen: questionnements de longue durée", that was planned to take place in Villa Finaly, Florence, on 30th September – 4th October 2020, has been postponed. It will be held on 27th-30th May 2021.