Important links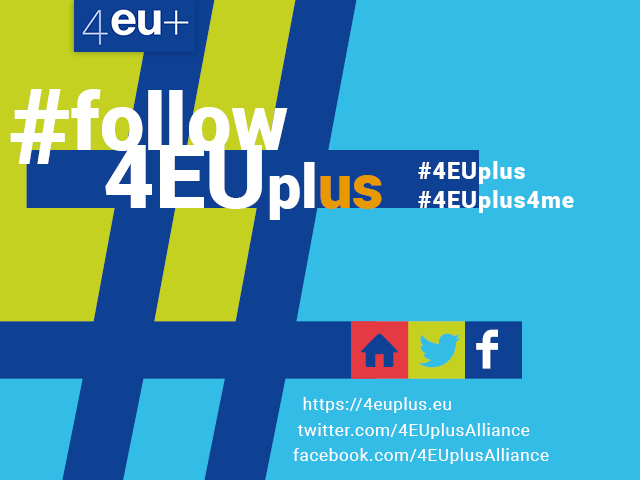 the 4EU+ website: https://4euplus.eu
the 4EU+ Twitter account: twitter.com/4EUplusAlliance
the 4EU+ Facebooku account: www.facebook.com/4EUplusAlliance
Office for International Research and Liaison – coordinates the UW contribution to the 4EU+
Press Office – responds to media enquiries
Flagship Coordinators at UW
Dr. Catherine Suski-Grabowski – Flagship 1 "Health and demographic change in an urban environment"
Dr. Anna Wojtyś – Flagship 2 "Europe in a changing world: Understanding and engaging societies, economies, cultures and languages"
Prof. Agnieszka Świerczewska-Gwiazda – Flagship 3 "Transforming science and society: Advancing information, computation and communication"
Dr. Julia Pawłowska – Flagship 4 "Biodiversity and sustainable development"
News
Due to COVID-19 situation the workshop "Le pouvoir en écritures dans l'Europe humaniste: fin XIVe – début XVII siècles", organised within Flagship 2 project "Humanism, from the late Antiquity to the 21st Century/L'Humanisme européen: questionnements de longue durée", that was planned to take place in Villa Finaly, Florence, on 30th September – 4th October 2020, has been postponed. It will be held on 27th-30th May 2021.
4EU+ educational projects: call for proposals
Academics working in the 4EU+ universities can submit project proposals regarding education that would engage students and doctoral candidates. All projects have to involve at least three 4EU+ member universities and fall under one of the four 4EU+ flagship programmes. The first submission date for educational projects is 15th June 2020 for proposals in Flagship 2 and 1st July 2020 for proposals in Flagship 1, 3 and 4.