Important links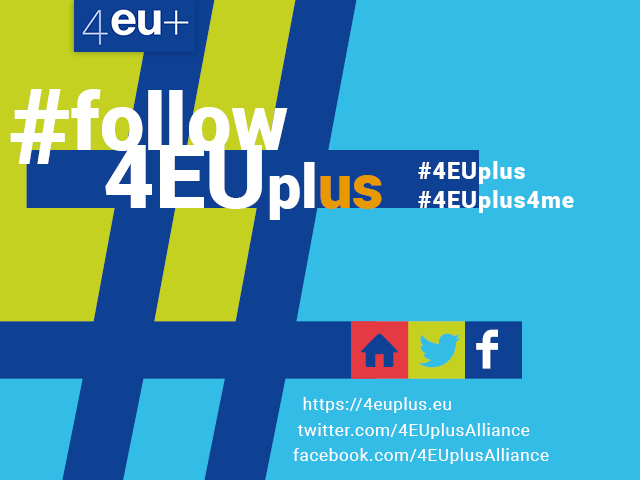 the 4EU+ website: https://4euplus.eu
the 4EU+ Twitter account: twitter.com/4EUplusAlliance
the 4EU+ Facebooku account: www.facebook.com/4EUplusAlliance
Office for International Research and Liaison – coordinates the UW contribution to the 4EU+
Press Office – responds to media enquiries
Flagship Coordinators at UW
Dr. Catherine Suski-Grabowski – Flagship 1 "Health and demographic change in an urban environment"
Prof. Anna Wojtyś – Flagship 2 "Europe in a changing world: Understanding and engaging societies, economies, cultures and languages"
Prof. Agnieszka Świerczewska-Gwiazda – Flagship 3 "Transforming science and society: Advancing information, computation and communication"
Dr. Julia Pawłowska – Flagship 4 "Biodiversity and sustainable development"
News
"

Imagining the Future

"

Festival

Students, doctoral candidates and academics of the 4EU+ Alliance member universities can now submit proposals for the Science and Culture Festival "Imagining the future" that will take place in June at Sorbonne University. The call for proposals closes on 29th January.

The festival's guiding principle "Imagining the future" offers a range of four themes to explore the multiples social challenges and changes of our time. The four topics are offered:
"Nature: what are the futures for Humanity? To build new relations and a new "contract" between the human being and his environment",

"The human being of tomorrow: extended, assisted, modified, pushed? From development to repair",

"Art, culture and heritage: Which roles in the societal transition? To create in the world of tomorrow",

"Individual liberties and civic rights: which perspectives? To invent the society of tomorrow".
The project proposals must favour interactions with the public by giving an advantage to dialogues and participation, especially with a younger audience (e.g. 15-18-year old).
They can vary in forms: from meetings (roundtable, debate, flash conference (20'maximum), through experiments (pedagogical workshops, demonstration, item building, etc.), exhibition (collection, works, photography, artwork, etc.) to artistic performance and contests.
Due to COVID-19 situation the workshop "Le pouvoir en écritures dans l'Europe humaniste: fin XIVe – début XVII siècles", organised within Flagship 2 project "Humanism, from the late Antiquity to the 21st Century/L'Humanisme européen: questionnements de longue durée", that was planned to take place in
Villa Finaly, Florence, on 30th September – 4th October 2020, has been postponed. It will be held on 27th-30th May 2021.