Important links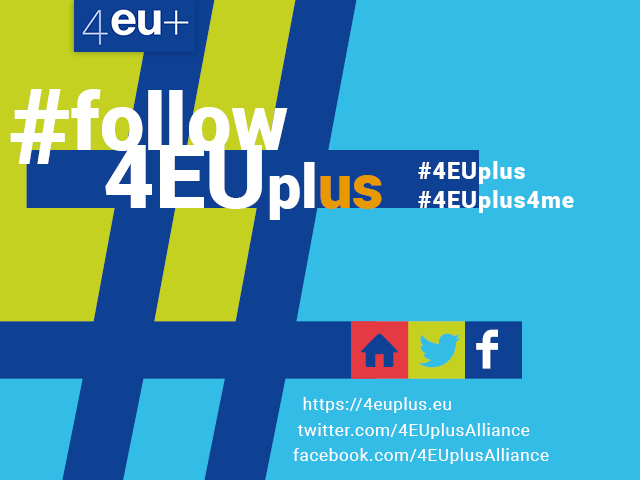 the 4EU+ website: https://4euplus.eu
the 4EU+ Twitter account: twitter.com/4EUplusAlliance
the 4EU+ Facebook account: www.facebook.com/4EUplusAlliance
the 4EU+ Instagram account: instagram.com/4euplus_alliance/
Office for International Research and Liaison – coordinates the UW contribution to the 4EU+
Press Office – responds to media enquiries
Flagship Coordinators at UW
Dr. Catherine Suski-Grabowski (Interdisciplinary Centre for Mathematical and Computational Modelling) / Dr Grzegorz Kula (Faculty of Economic Sciences) – Flagship 1 "Health and demographic change in an urban environment"
Prof. Anna Wojtyś (Faculty of Modern Languages) / Prof. Agata Bareja-Starzyńska (Faculty of Oriental Studies) – Flagship 2 "Europe in a changing world: Understanding and engaging societies, economies, cultures and languages"
Prof. Błażej Miasojedow (Faculty of Mathematics, Informatics and Mechanics) / Prof. Agnieszka Świerczewska-Gwiazda (Faculty of Mathematics, Informatics and Mechanics) – Flagship 3 "Transforming science and society: Advancing information, computation and communication"
Dr. Julia Pawłowska (Faculty of Biology) / Dr. Mariola Zalewska (University Centre for Environmental Studies and Sustainable Development) – Flagship 4 "Biodiversity and sustainable development"
News
Short module programme 
"Sociology of Elites: Case Studies and methods" is a short module programme, organised by Prof. Robert Zajonc Institute for Social Studies, University of Warsaw, in the framework of NAWA project "Academic Partnership for Innovation in Teaching and Learning" (API) – International Academic Partnerships Programme.
UW coordinates the project in collaboration with partner universities: Charles University in Prague, Sorbonne University and the University of Heidelberg. Candidates from all 4EU+ partner universities are eligible to apply.
English-language classes will be conducted online from 30th September to 15th October 2021, twice a week. Participation is free of charge. The programme is targeted at master students and doctoral candidates/young researchers.
Applicants are requested to send their CV, a letter of recommendation from their supervisor, and a short (1 page) description of their research to the following email address: andrzej.turkowski@uw.edu.pl
Application deadline: 24th September 2021.
Shared online courses: Winter semester 2021/22
In the winter semester 2021/22, five 4EU+ Alliance member universities (University of Warsaw, Charles University, Sorbonne University, Heidelberg University and University of Milan) will make their online courses available to all 4EU+ students and doctoral candidates.
In September, registrations will be open for online courses of:
Registrations for Sorbonne University online classes opened in June and closed in early July.
Course catalogues, information on enrolment procedures of courses offered by 4EU+ universities are available on the 4EU+ Alliance website >>  
Important information for students planning to take online courses offered by 4EU+ universities:
Before taking a course offered by a 4EU+ partner university, the student should sign a 4EU+ Learning Agreement in his/her faculty/unit in order to determine and approve whether the course selected by the student from the 4EU+ offer can be recognised as part of the student's degree programme (e.g. elective course, OGUN) or whether the course will be indicated as a form of an extracurricular activity.
The 4EU+ Learning Agreement document may be signed by the faculty/unit mobility coordinator or another person appointed by the Head of the Teaching Unit.
After completing a course from the 4EU+ universities' offer, the student should bring the transcript of records issued by the 4EU+ partner university, or another document (e.g. certificate) confirming the credits earned, and the 4EU+ Learning Agreement to his/her Teaching Unit. On the basis of these two documents and a written request for recognising the course credits submitted to the Head of the Teaching Unit, the course can be entered into the USOS system and included in the student's study programme.
Subjects from the 4EU+ Alliance partner universities' offer will have to be entered manually into the USOS system by the Secretariat/Dean for Student Affairs' Office on the basis of the documents mentioned above (i.e. transcript of records/other document confirming the obtained credits, and the 4EU+ Learning Agreement).
For any questions concerning the 4EU+ shared online courses, please contact: 4euplus.mobility(at)uw.edu.pl.
Due to COVID-19 situation the workshop "Le pouvoir en écritures dans l'Europe humaniste: fin XIVe – début XVII siècles", organised within Flagship 2 project "Humanism, from the late Antiquity to the 21st Century/L'Humanisme européen: questionnements de longue durée", that was planned to take place in
Villa Finaly, Florence, on 30th September – 4th October 2020, has been postponed. It will be held on 27th-30th May 2021.