Important links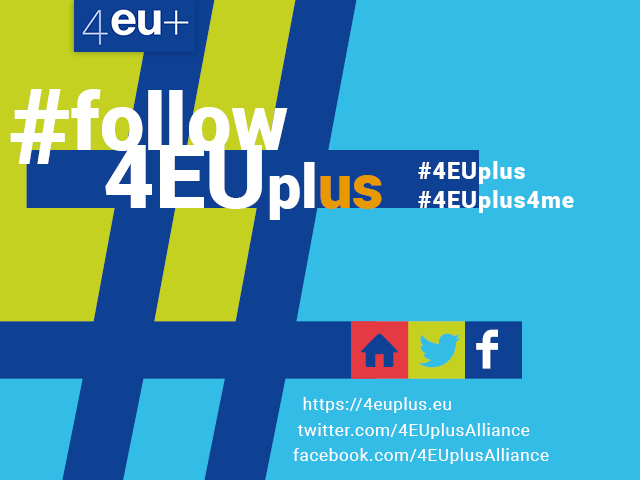 4EU+ website: https://4euplus.eu
4EU+ on Twitter: twitter.com/4EUplusAlliance
4EU+ on Facebook: www.facebook.com/4EUplusAlliance
4EU+ on Instagram: instagram.com/4euplus_alliance/
Office for International Research and Liaison – coordinates the UW contribution to the 4EU+
Press Office – responds to media enquiries
Flagship Coordinators at UW
Dr. Catherine Suski-Grabowski (Interdisciplinary Centre for Mathematical and Computational Modelling) / Dr Grzegorz Kula (Faculty of Economic Sciences) – Flagship 1 "Urban health and demographic change"
Prof. Anna Wojtyś (Faculty of Modern Languages) / Prof. Agata Bareja-Starzyńska (Faculty of Oriental Studies) – Flagship 2 "Europeanness: multilingualism, pluralities, citizenship"
Prof. Błażej Miasojedow (Faculty of Mathematics, Informatics and Mechanics) / Prof. Agnieszka Świerczewska-Gwiazda (Faculty of Mathematics, Informatics and Mechanics) – Flagship 3 "Data – Models – Transformations"
Dr. Julia Pawłowska (Faculty of Biology) / Dr. Mariola Zalewska (University Centre for Environmental Studies and Sustainable Development) – Flagship 4 "Environmental transitions"
Announcements
4EU+ Alliance: an opportunity to share online or hybrid courses by UW academic teachers in the winter semester 2022/2023
As part of the 4EU+ educational collaboration, UW academic teachers can offer their courses conducted fully (including assessment) in an online or hybrid mode to be made accessible via online enrolment procedure to students and PhD students of the 4EU+ Alliance five partner universities (4EU+ Shared courses). Since the academic year 2020/2021, UW lecturers from 19 faculties and other units have made a total number of 144 shared courses available to 4EU+ participants, with over 200 students from all five partner universities enrolled.
Courses must be taught in one of the languages of the 4EU+ Alliance partner universities (German, French, Italian, Danish or Czech) or in English, and correspond thematically to one of the 4EU+ Alliance Flagships.
Proposals for shared courses must be submitted by 4 September 2022 using the table provided in the Google Sheet.
For more information on sharing courses with 4EU+ Alliance students, please follow this link.
For questions related to the 4EU+ Alliance teaching offer, please contact Dr Marta Jaworska-Oknińska (m.jaworska-okninska@uw.edu.pl) from the Office for International Research and Liaison and 4EU+ Alliance Local Office.
Free Online 4EU+ Course: Data Literacy
"Data Literacy – What is it and Why Does it Matter?" is the title of an open online course.
It will cover issues from three perspectives: data in personal life, data in society, and data in knowledge production. The aim is threefold:
to expand the skills and abilities to identify, understand, and interpret the many roles of digital technologies in daily life;

to enable the participants to discern when data-driven technologies add value to people's lives, and when they exploit human vulnerabilities or deplete the commons;

to cultivate a deeper understanding of how data-driven technologies are shaping knowledge production and how they may be realigned with real human needs and values.
The course is funded by Erasmus+ and developed by the 4EU+ University Alliance including Charles University (Univerzita Karlova), Sorbonne Unviersity (Sorbonne Université), University of Copenhagen (Københavns Universitet), University of Milan (Università degli studi di Milano), and University of Warsaw (Uniwersytet Warszawski).