4EU+ academics can now submit their project proposals and receive funding to carry out educational activities that will involve students and doctoral candidates from the Alliance. All projects need to bring together at least three 4EU+ member universities and fall under one of the four 4EU+ flagship programmes.
The 4EU+ Alliance intends to build its shared approach to higher education by encouraging joint projects bringing together academics from the six 4EU+ member universities. 
The projects can vary in form: from workshops and other short-term intensive learning experiences, through joint courses and modules, to core curricula and joint study programmes. The project proposals ought to reflect the following features:
Innovative educational ideas and solutions, new designs or new activities that may attract students across the whole 4EU+ Alliance,
Include an active involvement of students, both in the creation of educational activities and in their implementation,
Be sustainable in long-term collaboration.
In the second call for educational proposals, applicants are encouraged to:
Design activities and propose formats that will be devoted to BA students,
Submit project proposals focused on Data Literacy (among other Flagship-related projects).
All projects need to:
Involve at least three 4EU+ member universities (lead university + minimum two partner universities),
Include educational activity/activities,
Involve student mobility (physical, virtual, or blended),
Be of thematic relevance to one of the four 4EU+ Flagships: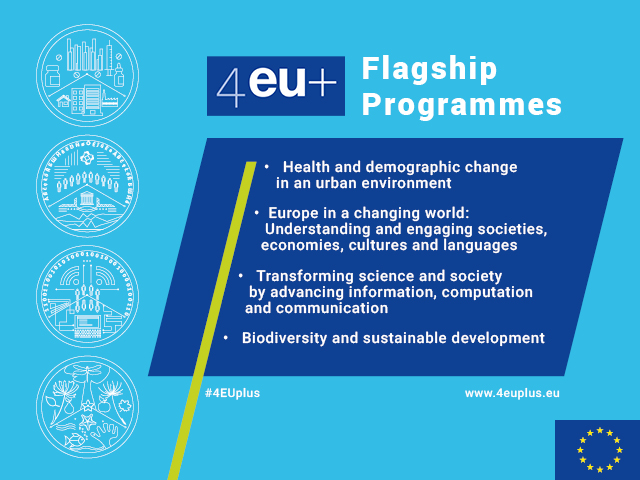 Project teams that received funding in the first call for educational proposals can submit another project proposal in the second call. Project teams whose project proposals were not accepted in the first call can resubmit their revised versions in the second call.
Procedure:
At first, project proposals need to be submitted via an online application form by the Project Coordinator (PI). Then Proposals will be evaluated in three phases by three different evaluator groups. The final list of selected projects will be approved by the Management Committee.
The local 4EU+ officers will inform the applicants about the outcome, alongside with further information.
Should you have any questions, please contact a local 4EU+ office (e.g. at UW: 4euplus@uw.edu.pl).
Important dates:
Closing date for proposal submissions: 1st March 2021. 
The results of the call will be announced at the beginning of May 2021. Applicants will be informed about the selection outcomes by email.
Funding period: 1st June 2021 – Autumn 2022
Start of educational activities: educational activities of smaller scope, e.g. summer schools, workshops, etc.: 1st June 2021; courses, educational modules, joint programmes: winter or summer semester 2021/2022.
Detailed information regarding the second call for educational projects, an online application form, financial guidelines and other documents are available at www.4euplus.eu/4EU-190.html.