On 1st May 2004, Poland, together with nine other countries, became a member of the European Union. Accession has also been beneficial for the University of Warsaw. UW has received funds for investment from the EU structural funds, thanks to which, among other things, modern research centres were built. UW scientists successfully apply for funding from EU framework programmes like Horizon 2020.
Polish academies, as a participants in the European Higher Education Area and the Bologna Process, have introduced e.g. the three-cycle framework of higher education qualifications and the European Credit Transfer System. It has allowed UW to increase the international mobility of students and employees of the university.
The biggest UW investments 
financed from EU funds
a renovation of the Main UW Campus
three new buildings at the Ochota Campus: the Centre of New Technologies, the Biological and Chemical Research Centre, the Faculty of Physics
the new building of the linguistic faculties in Powiśle district
the European Centre for Geological Education in Chęciny
a renovation of the Faculty of Management
The University of research
The University of Warsaw is the most effective of all Polish academies in acquiring funding through competitive calls, and its scholars are often the largest group of laureates in given programmes:
7th Framework Programme (2007-2013) – 99 projects
Horizon 2020 (Framework Programme for Research and Innovation 2014-2020) – 65 projects
ERC grants
Among projects financed as part of the European programmes, particularly interesting are prestigious grants of the European Research Council. The subsidies are awarded as part of the IDEAS programme, supporting the most innovative ventures in all fields of science. Since 2007, scholars from UW have received 14 of the 32 grants given to Polish institutions from the most prestigious European competitions of the European Research Council.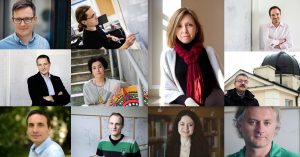 A leader of mobility
The University of Warsaw has been participating in the Erasmus programme since 1998 and is the most active Polish university regarding the mobility of students and employees. For its participation in the Erasmus programme, the university received many awards from Polish and international institutions (e.g. the European Commission, Foundation for the Development of the Education System, or the Polish Ministry of Higher Education).
Erasmus programme at the University of Warsaw:
24 965 outgoing students, doctoral students and employees
8 515 incoming students
500 partner universities from abroad
1 100 companies and institutions in cooperation with UW
46.2 million euro budget
20 years of the Erasmus programme at UW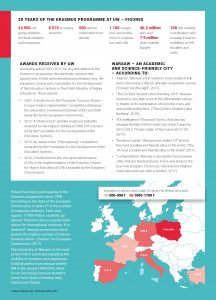 More about the anniversary of the Erasmus programme at UW (pdf) >>
European Universities initiative
The European Commission has launched in 2017 a pilot initiative that will support a number of European University alliances and is considered a milestone towards the establishment of the European Education Area by 2025. The "European Universities" dedicated call for proposal is a part of the Erasmus+ programme.
4EU+ Alliance
The University of Warsaw, together with the partners from the 4EU+ Alliance, responded to the call of the European Commission regarding the European Universities Initiative.