The University of Warsaw hosts the International Staff Training Week. 29 people from 20 countries came to Warsaw to take part in the event entitled "Cross-cultural communication. Resolving conflicts in an intercultural community".
Erasmus+ is the EU's programme to support education, training, youth and sport in Europe. It is dedicated not only to students and scholars but also to administrative staff.
It is the 10th time when the International Relations Office of the University of Warsaw organises the International Staff Training Week. The event is dedicated to the administrative staff from all over the world. This year, UW hosts 29 representatives from, e.g. Cambodia, China, Israel, Philippines, Russia, Spain, and Turkey. They discuss topics related to communication in the international environment, talk about misunderstandings and conflicts in a multicultural setting, and seek possible strategies and resolutions.
The programme includes a series of interactive workshops conducted by experienced trainers, experts in mediation, Prof. Ewa Gmurzyńska from the Faculty of Law and Administration and Dr Aleksandra Winiarska from the Faculty of Applied Social Sciences and Resocialisation.
The International Staff Training Week takes place from 3rd to 7th June. In the programme, apart from workshops on communication in the international environment, there is a visit to the University of Warsaw Library, guided campus tour at UW and a unique workshop on making traditional Polish-style ravioli (pierogi).
20 years of the Erasmus programme at UW
The University of Warsaw has been participating in the Erasmus programme since 1998 and is the most active Polish university regarding the mobility of students and employees. For its participation in the Erasmus programme, the university received many awards from Polish and international institutions (e.g. the European Commission, Foundation for the Development of the Education System, or the Polish Ministry of Higher Education).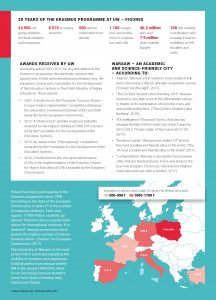 More about the anniversary of the Erasmus programme at UW (pdf) >>