Prof. Alojzy Z. Nowak, the UW Rector, and the academic community express their solidarity with earthquake victims in Türkiye and Syria. The University of Warsaw supports donations in kind collection organised by the Turkish Ambassador to Poland. Students whose families have been affected by the disaster can apply for an assistance grant.
The assistance grant is a one-off benefit granted on a documented request of a student or a doctoral candidate who, for reasons beyond his control, found himself temporarily in a difficult life situation causing costly and short-term difficulties in studying.
The application is submitted by the USOSweb. The assistance grant form for the relevant academic year is available after logging to an individual USOSweb account, in the COMMON section, and then APPLCATIONS.
The maximum amount of the assistance grant is PLN5500. The aid can be granted twice in the academic year (for two different reasons).
In case of any doubt about the application, a message should be sent to the following e-mail address: zapomogi@uw.edu.pl.
More information concerning the assistance aid can be found on the UW Student Welfare and Support Office's websites:
https://bpm.uw.edu.pl/en/assistance-grant/ (in English)
https://bpm.uw.edu.pl/jestes-obcokrajowcem-sprawdz-do-jakich-swiadczen-masz-prawo/ (in Polish)
Donations
An item collection for the victims of the 6th February earthquake in Türkiye and Syria is being held in several Polish cities. Private and institutional donors can join the action. Collected items should be unused and suitable for winter conditions. Donors are asked to donate items from the attached list >>.
The items can be delivered to the collection points below:
Aleje Jerozolimskie 55/3, 00-697 Warsaw
Contact: +48 22 891 2513
Ecolines Car ul. Lodzka 42, Rzgów
Contact Person: Mehmet İmik, +48 601 195 359
Nad Stawem 7, 80-454 Gdańsk
Contact Person: Hakan Haner, +48 722 005 888
Gdyńska 32, 80-209 Tuchom
Contact Person: İzzet Ekşi, +48 606 978 801
Wroclaw Collection Centre
Wita Stwosza 15a/2a, 50-148 Wrocław
Contact Person: Elvan Gazi, +48 696 939 860
Vera Food Śnieżna 18, 30-822 Kraków
Contact Person: Gediz Alan, +48 785 322 172
Item collection of the UW Faculty of Oriental Studies
The Faculty of Oriental Studies also initiated the action to collect donations.
Essential (new) articles can be deposited at two locations:
Dean's Office of the Faculty of Oriental Studies at the Main Campus of the University of Warsaw in the Tyszkiewicz Potocki Palace, entrance D, ground floor, from 9 am to 3 pm.
Temporary seat of the Faculty of Oriental Studies of the University of Warsaw on 15/17 Tyniecka str., from 8 am to 12 pm.
In the area most affected by the earthquake, there is no electricity, gas, water or food and the temperature is very low.
What is needed most urgently are blankets and power banks.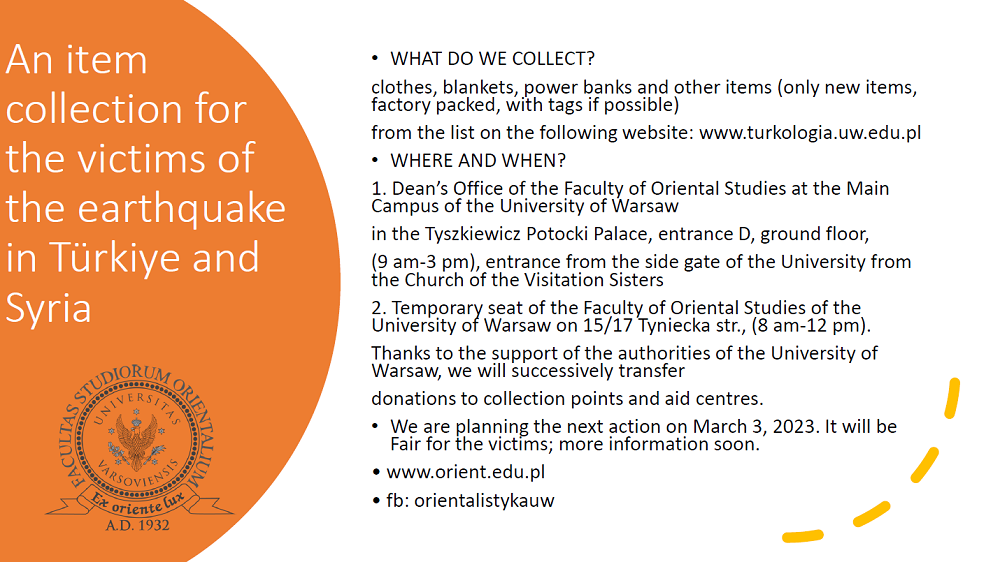 Announcement of the Turkish Embassy in Poland
Dear Compatriots and Polish friends,
we would like to express our gratitude for your support and joint action in this difficult time.
Our Embassy has opened a PLN account with Santander Bank Polska to raise money for earthquake-affected Türkiye.
The collected money will be donated to the Turkish Presidency for Disaster and Emergency Management – AFAD.
BANK NAME: SANTANDER BANK POLSKA
Account number: 41 1090 1883 0000 0001 5300 0647
Name of recipient: Ambasada Turcji