For the first time, the final of the competition takes place in Poland. Warsaw will host the best young scientists from all around the world.
What is EUCYS?
– In science, it always helps when you are open not only to knowledge, but also to other people. Talking to people with similar interest helps you avoid mistakes which other people have already committed, or see details which at the first glance looked unimportant – says professor Marcin Pałys, Rector of the University of Warsaw – EUCYS is a competition which provides such opportunities to young people. This event is a meeting place for people of similar age and with similar scientific drive – he adds.
The European Union Contest for Young Scientists has been around for 25 years. It is organized by the European Commission. The contestants are young scientists who excel in their class, school, country, and finally on the international scene. In order to make it to the final, they first need to convince national juries to their projects.
The 26th final of the competition is the first to take place in Poland, in the University of Warsaw. Now the decisive stage brought to Warsaw the 118 best young scientists from Europe, Asia and North America. They include mathematicians, computer scientists, ecologists, engineers, economists, biologists, chemists, physicists and representatives of many other fields of science. Some individually, other is groups, they will represent their scientific ideas.
Stands full of ideas
2m²  – this is the area available for the contestants to make a scientific presentation. In the University Library there will be as many as 84 of them, a different idea in each. The task of new researchers will be not only to arrange their stands, but – above all – to describe their projects to the jury and the public.
The best young scientists will have a chance to win invitations for internships in leading European scientific centres. The winners will also receive money prizes.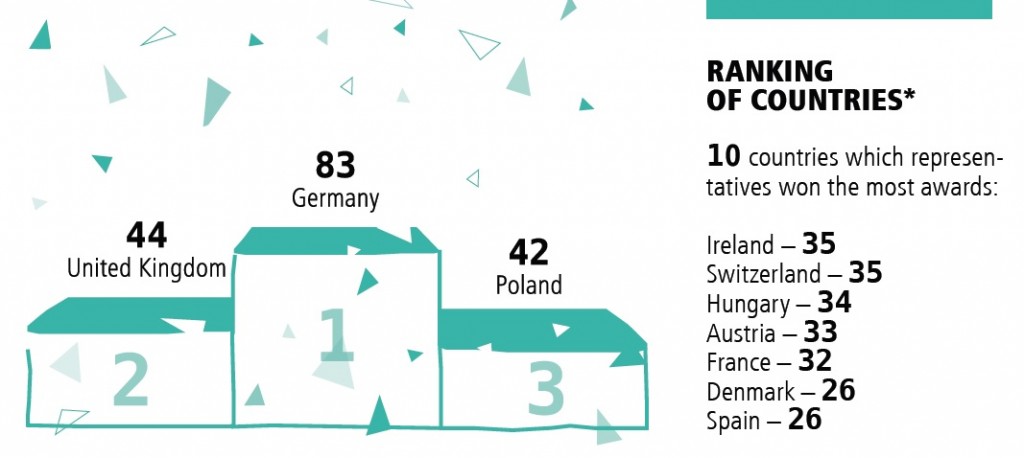 * Statistics for the years 1989-2013. Not all countries participate in the competition from the begin-ning. Hungary joined in 1993 and Poland in 1995.
More information: EUCYS 2014